Get personalized guidance
The NutriQuiz
Get a baseline understanding of your nutrition by answering simple food and lifestyle questions. This helps us offer you curated recommendations based on your habits, preferences and health status.
Telenutrition
Receive personalized guidance from a registered dietitian over a video or audio call. No matter your eating habits, preferences, or conditions, your dietitian can provide you with guidance to help you reach your goals.
Blog
Our blog is rich with recipes, cooking tips, advice from our dietitians, festive content, ways to get active, and more. Find articles of interest, learn from our nutrition experts, and get inspired.
Save hours each week on meal planning
Meal Plan
Plan a week of meals for you and your family with recipes for breakfast, lunch, dinner, and even snacks. Sort by ingredients, cook time, and price.
Grocery List
The ingredients for your selected meals conveniently populate in your Grocery List. Save 34% per grocery order by easily comparing grocery lists prices between stores using Instacart, Walmart, and Amazon Fresh.
Recipes
To stay inspired or update your Meal Plan you can browse our Recipes for delicious and nourishing meals. Filter by categories like immunity boosters, low fat, allergens, household size, and more.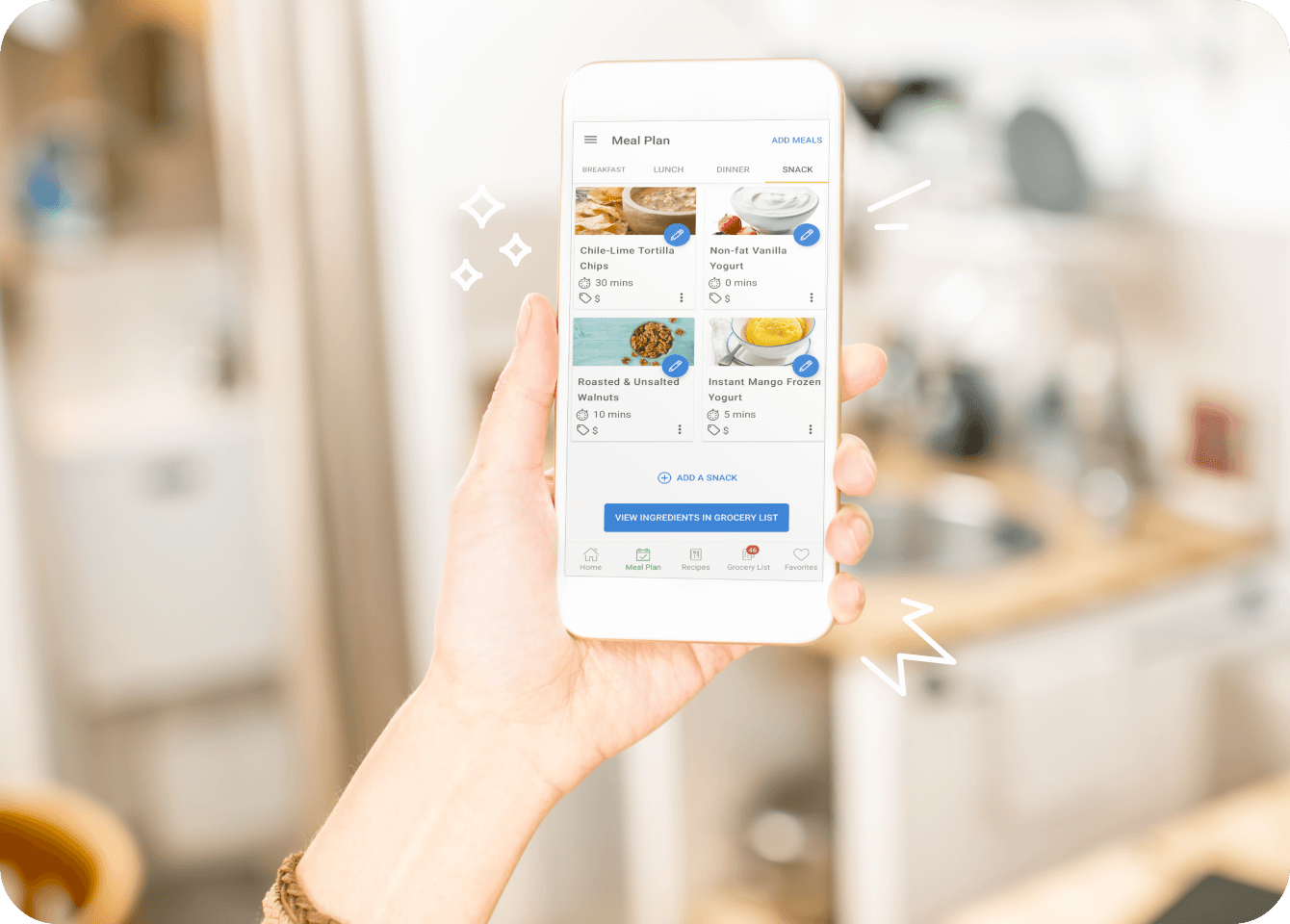 Find deals and have food delivered
Deals
You can shop local grocery deals based on your zip code using our Instacart integration. Filter by food category or store to save an average of 34% per grocery order.
Marketplace
From prepared meals that only require heating up to meal kits with easy-to-follow recipes, our Marketplace sends high quality food boxes to your doorstep that align with your goals.
Grubhub
If you prefer to support a local restaurant, our in-app Grubhub integration is for you! Keep an eye out for the "avocado" icon to help you find healthy restaurants and meals.
Restaurants
Going out to eat? Our Restaurants tab gives you valuable advice on how to navigate menus and choose healthy items. For example, our Mediterranean section highlights choosing whole wheat pitas to boost fiber.
CookItNow
Get instant dinner recipe recommendations based on the ingredients you currently have in your pantry with our CookItNow feature.