Nutrition for Heart Health
Making healthier food choices can help reduce your risk of developing chronic conditions that contribute to cardiovascular disease. Foodsmart's NEW Heart-Smart Nutrition Program offers personalized nutrition support from a registered dietitian to guide you on your way to better heart health. If you're ready to take your nutrition to heart, our dietitians will help you create a budget-friendly plan that's tailored to your unique health goals and provide all the tools needed to achieve them.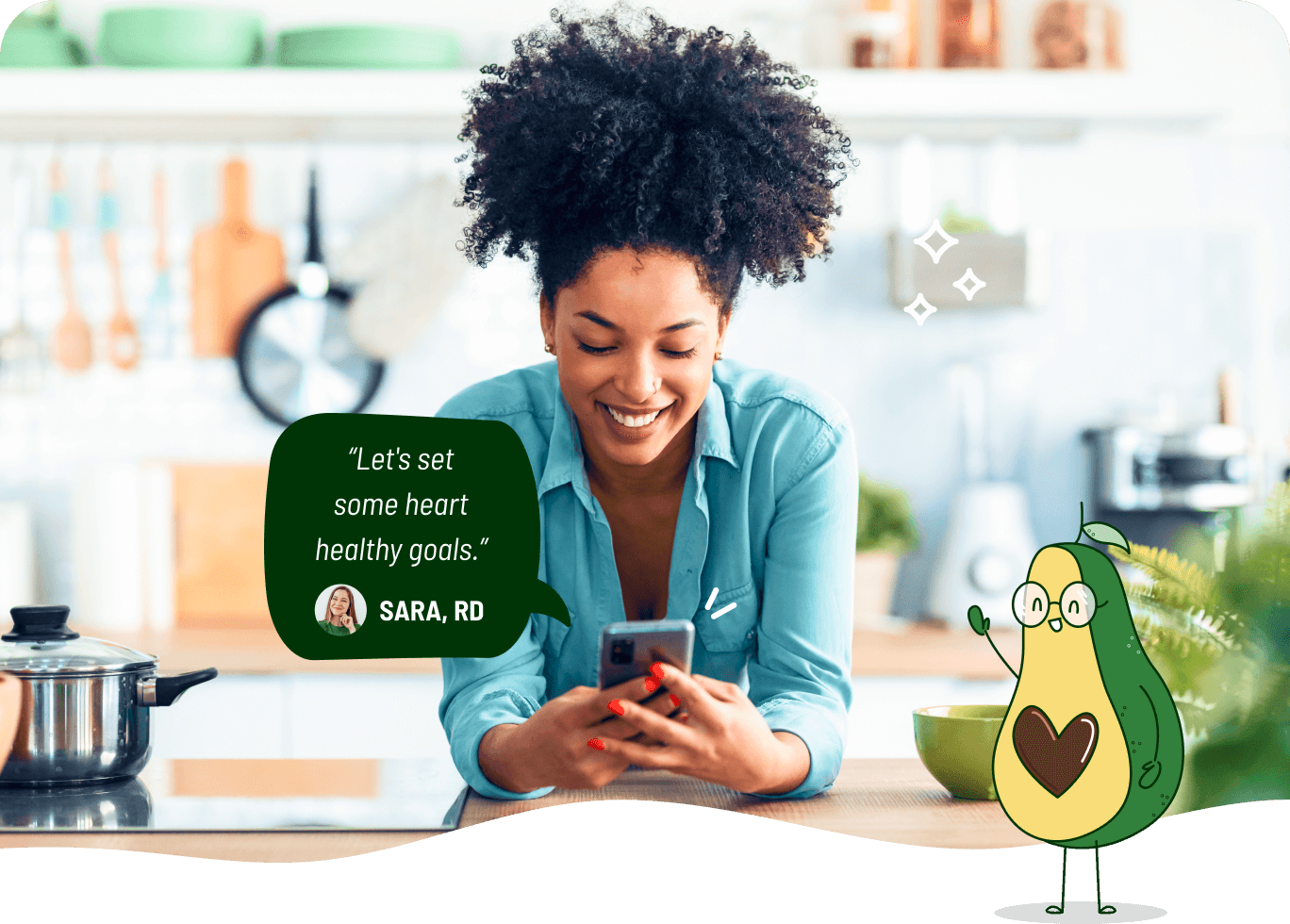 Join our Heart-Smart Nutrition Program
What You'll Get
A custom program tailored to your heart health needs – whether you're focused on personal fitness, seeking to lower your total cholesterol or blood pressure, or you're recovering from a heart event.
Evidence-based nutrition curriculum with weekly topics of focus.
Frequent check-ins with your dietitian to customize and adapt your plan based on progress.
Access to the Foodsmart app for meal planning, recipes, grocery deals, delivery and more.
An accountability partner and long-term support .
How to Sign Up
Schedule your first dietitian visit.
During your first visit, mention you'd like to begin Foodsmart's new Heart Health Program. Your dietitian will provide an overview of the program, customize it to your individual needs, and schedule your followup visits.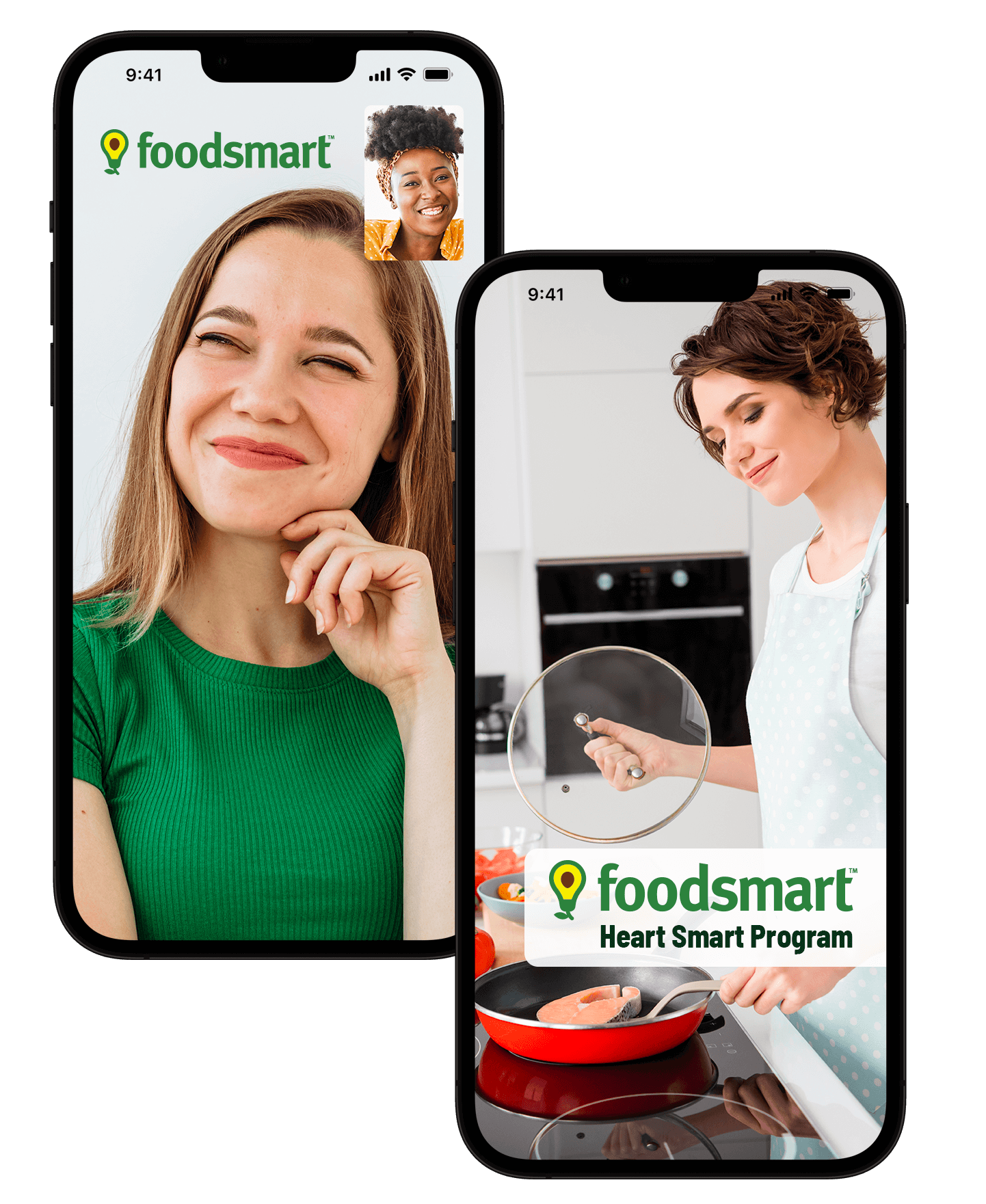 How Can a Dietitian Help With Heart Health?
Your heart health dietitian is clinically trained to offer guidance and support that's unique to you. Taking into account your medical history, nutritional needs, budget, and food preferences, they'll help you develop a plan to reach your goals and keep you on-track. Dietitians are also trained to treat chronic conditions like hypertension, diabetes, high total cholesterol, and obesity, with nutrition. They also support food sensitivities and allergies. Plus, they're available to work with you on your schedule via telehealth.
Tools for Maintaining a Tip-Top Ticker
Cardiovascular disease affects more that 7% of Americans over the age of 20 and is the leading cause of death among men and women in the United States. While some factors that play a role in the development of cardiovascular disease — like gender, genetics, and age — are largely out of our control, we can make adjustments to our diets for better heart health while eating many of the delicious foods we already love. The typical American diet consists of many foods that are high in calories, saturated fat, sodium and added sugar, which lead to increased blood pressure, cholesterol and triglyceride levels. By incorporating more fiber, healthy fats, and antioxidants into our diets, and avoiding overly-processed foods we can help reduce our risk of developing the chronic conditions that contribute to cardiovascular disease. When you join the Heart-Smart Nutrition Program, you'll have the support of your personal dietitian, plus all the tools and tips you need to improve your heart health.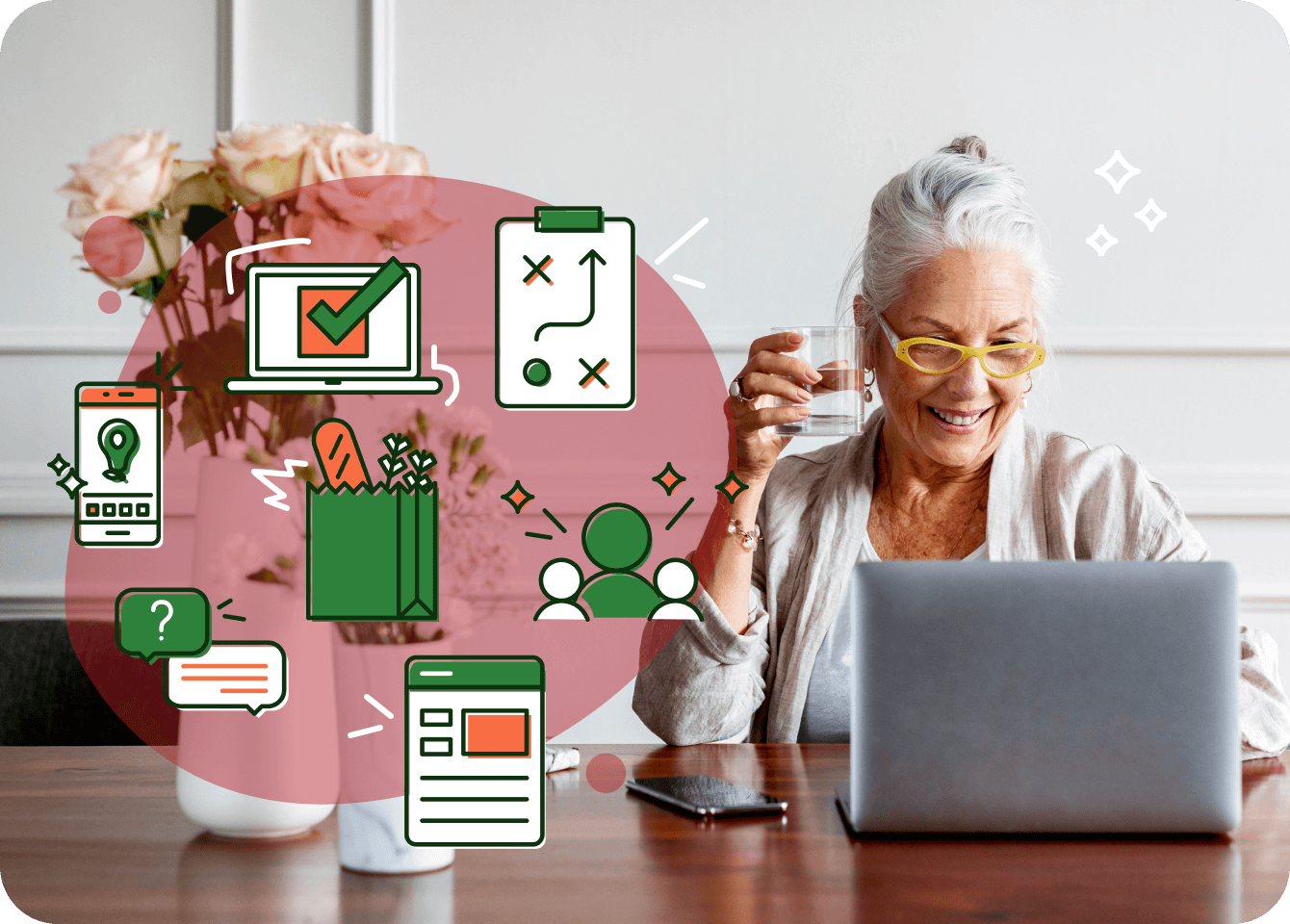 The Foodsmart Approach
Your journey begins with a visit with a dietitian. If you're interested in joining our Heart-Smart Nutrition Program, just mention it to your dietitian when you schedule a visit. They'll give a program overview, consider your unique needs, and help you schedule follow-up visits. Once your plan is set, explore the daily tools available to you on the Foodsmart app.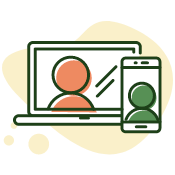 Meet your personal dietitian
Choose a 30- or 60-minute visit with a dietitian to define your goals and create a plan. Your dietitian will get to know you — your heart health-related goals, medical history, budget, and dietary preferences — to find an approach that is truly unique to you.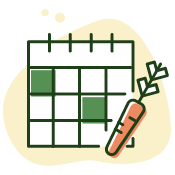 Receive a customized plan
Your dietitian will create a nutrition plan just for you, including a heart-y, budget-conscious meal plan that will keep you satisfied, Heart-Smart tips and tricks, and educational tools. That's everything you need to succeed!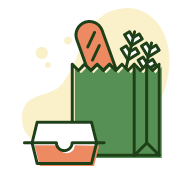 Build better habits with daily support
Follow your meal plan in the app and customize with 1000's of chef-crafted recipes. Plus, save time and money with automatic grocery lists, grocery delivery, grocery deal finder, and more!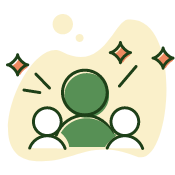 See results and celebrate the journey
Schedule monthly check-ins with your dietitian to adapt your plan based on your progress or changing needs, and to celebrate your wins!

We've helped our 1.5 million members make eating well simple

I've seen significant improvements in my health since I've started using the Foodsmart app. I lost about 30 pounds in a year. My A1C without medication has been consistently in the fives.
Callie R.

The nutritionist was a game changer! I have jump-started my weight loss. 40 pounds down, 40 to go.
Shannon P.

I am already down 30 lbs from using the recipes on Foodsmart. Even my 2 year old who is super picky loves the recipes.
Madelyn O.
Request Program Information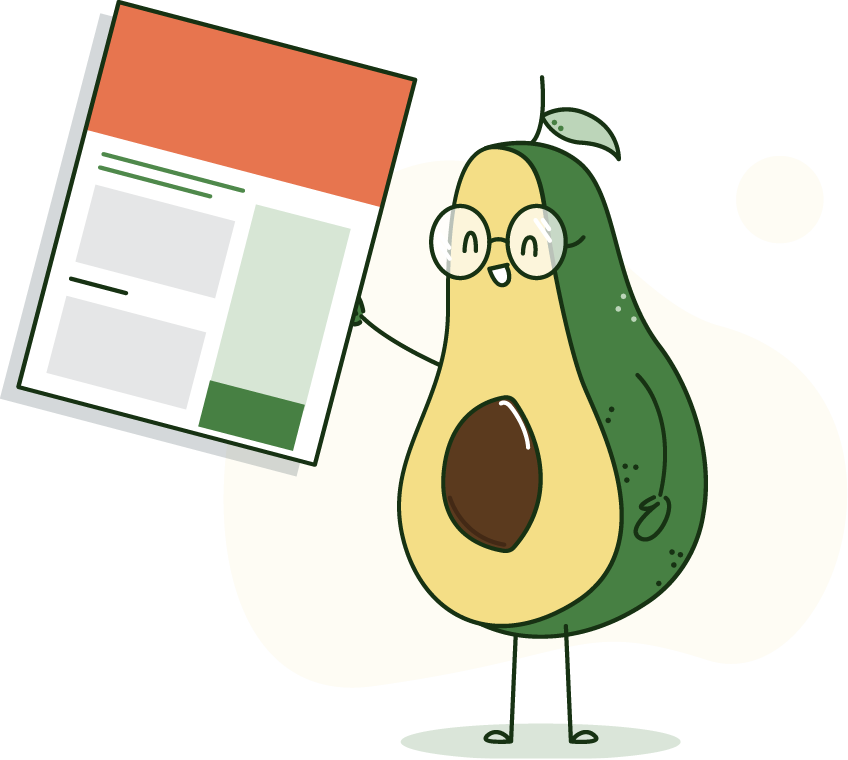 In a recent matched pair controlled claims analysis with Chorus Community Health Plan, Foodsmart demonstrated significant cost savings amongst both Medicaid and Exchange members by helping to improve their food access and affordability, overall nutrition and related health outcomes.
If you'd like to learn more about our Nutrition Programs, please provide your contact information using our Request More Information form. A patient care coordinator will be in touch to help answer any questions you may have.
Schedule Free 15-min Visit
Please do not include any privileged and confidential and/or protected health information (PHI) in your inquiry. For questions about telenutrition visits, please contact
telenutrition@foodsmart.com
or
(844) 741-1888
By submitting this form, I give express written consent to receive marketing and informational communications using an automatic telephone dialing system and/or an artificial or prerecorded voice, text message, or e-mail from Foodsmart. I understand my consent is not a condition of participating and that I may revoke my consent at any time.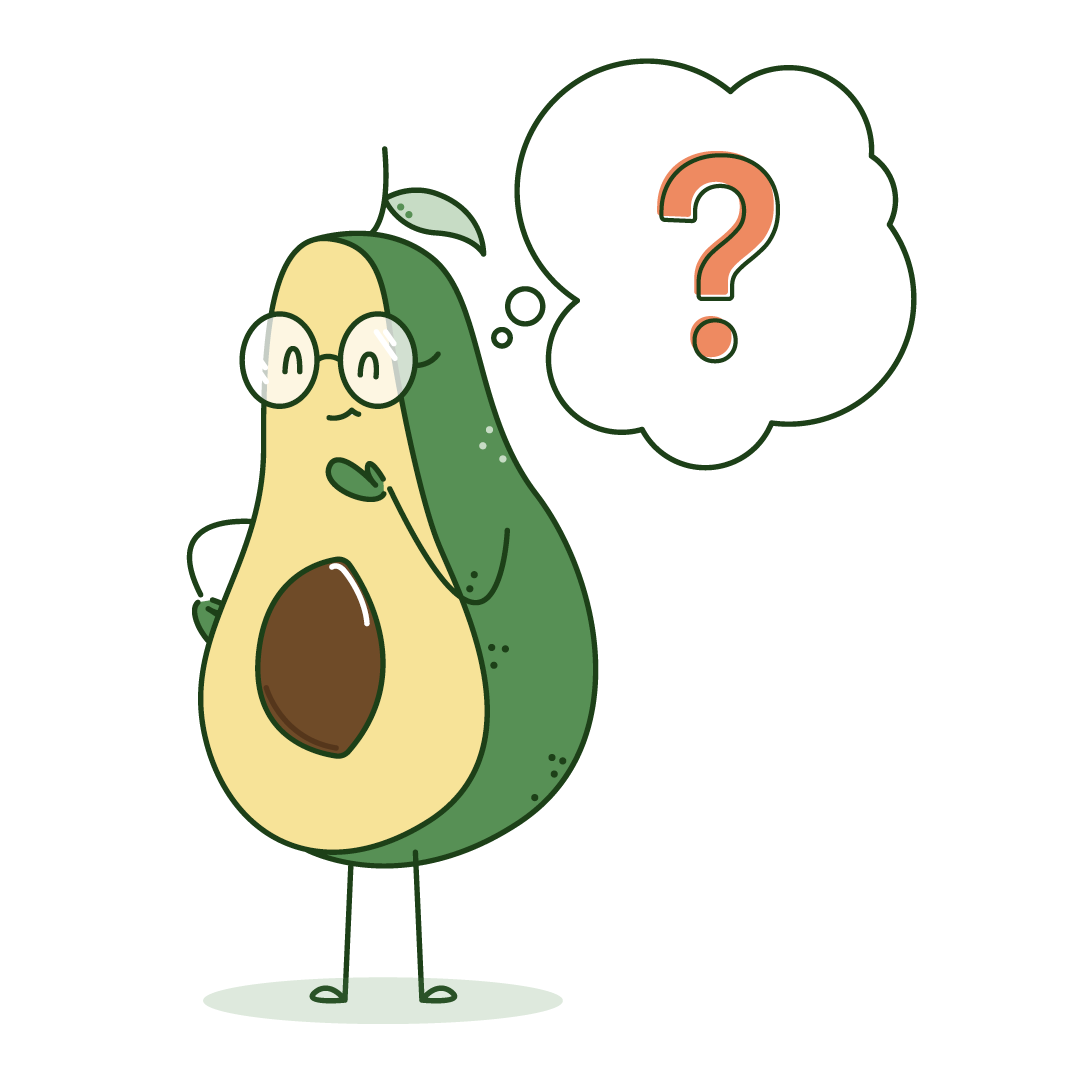 Frequently Asked Questions
How do I know this program will work for me?
Our program is driven by registered dietitians who are clinically trained in medical nutrition therapy to treat all conditions — including heart conditions — with nutrition. Unlike many "one-size-fits-all" programs, we take a personalized approach to understand who you are and what you're looking to accomplish and then develop a plan just for you.We've helped many of our 1.5M members improve their heart health, including helping 33% of members with obesity lose >5% of their bodyweight; 39% of members with diabetes improve their blood sugar levels; and 33% of members with hypertension achieve control of their blood pressure.We also work on your schedule. Whether you are available to meet once a week or once a month, we'll develop a Heart-Smart plan that's right for you.
What kinds of heart-related conditions does Foodsmart support?
Unlike many programs, we're not focused on quick fixes or a one-size-fits-all approach. Our primary difference is you!Whether you're struggling with hypertension, diabetes, obesity, or high total cholesterol, or you're recovering from a heart event, Foodsmart can help. When you meet with your personal dietitian, they will assess your individual case, symptoms, lifestyle, and goals, then create a custom nutrition plan to improve your heart health.
For the best results, we recommend completing 12 visits with your dietitian, but the length of the program ultimately depends on your goals and the plan you develop with your dietitian. When you meet with your dietitian, they will will work with you to adapt the program to your needs based on your health history, any conditions you are managing, and how you're progressing toward your goals over the course of the program.
How often do I meet with my dietitian?
For most members, we recommend a visit every two weeks, though you are welcome to meet more or less frequently. This cadence will give enough time to make progress and have meaningful updates. If you need support in between visits, you may always message your dietitian.