Personal nutrition support to feel your best
Independent Health has teamed up with Foodsmart to give you access to unlimited dietitian visits, at no cost to you! Plus, gain access to the app where you can create delicious meal plans, shop for deals on groceries or have food delivered. That's eating well, made simple.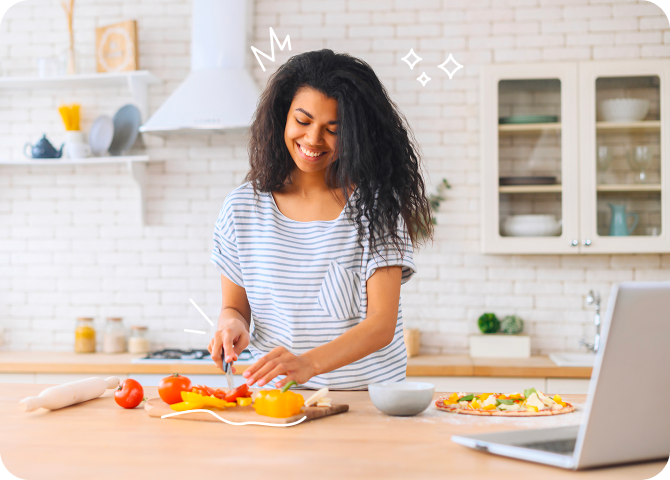 How to book your first visit
Locate your health insurance member ID card.
Follow the prompts to choose a date & time that works for you.
Complete your appointment - it's that simple!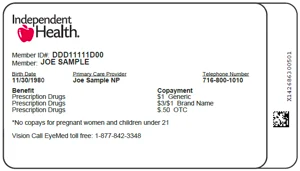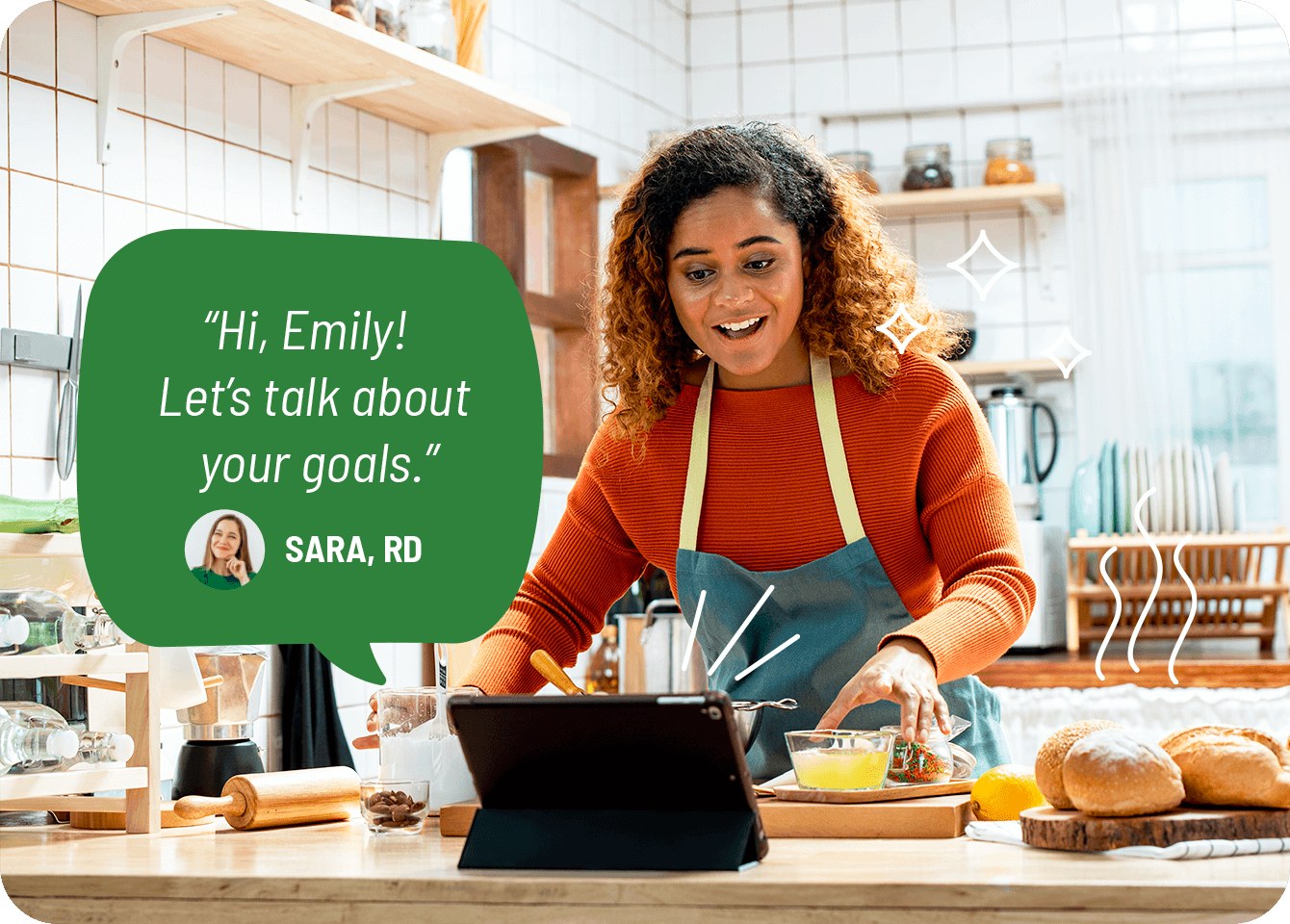 Save Time and Money with Foodsmart
Eat well with ease
Eating well does not have to be expensive or time consuming. When you book your first visit, you and your nutrition coach will meet to discuss your goals. After that, your nutrition coach will help you make a plan that fits your unique lifestyle and health conditions.
How does Foodsmart work?
STEP 1
Meet your personal nutrition coach. Schedule a phone call or video visit.
Choose a 30 or 60 minute visit with a dietitian to define your goals and create a plan. Independent health covers the cost 100%, so there's no cost to you. Booking your visit is simple, before you schedule, locate your health insurance member ID card. Then, follow the prompts to choose a date & time that works for you.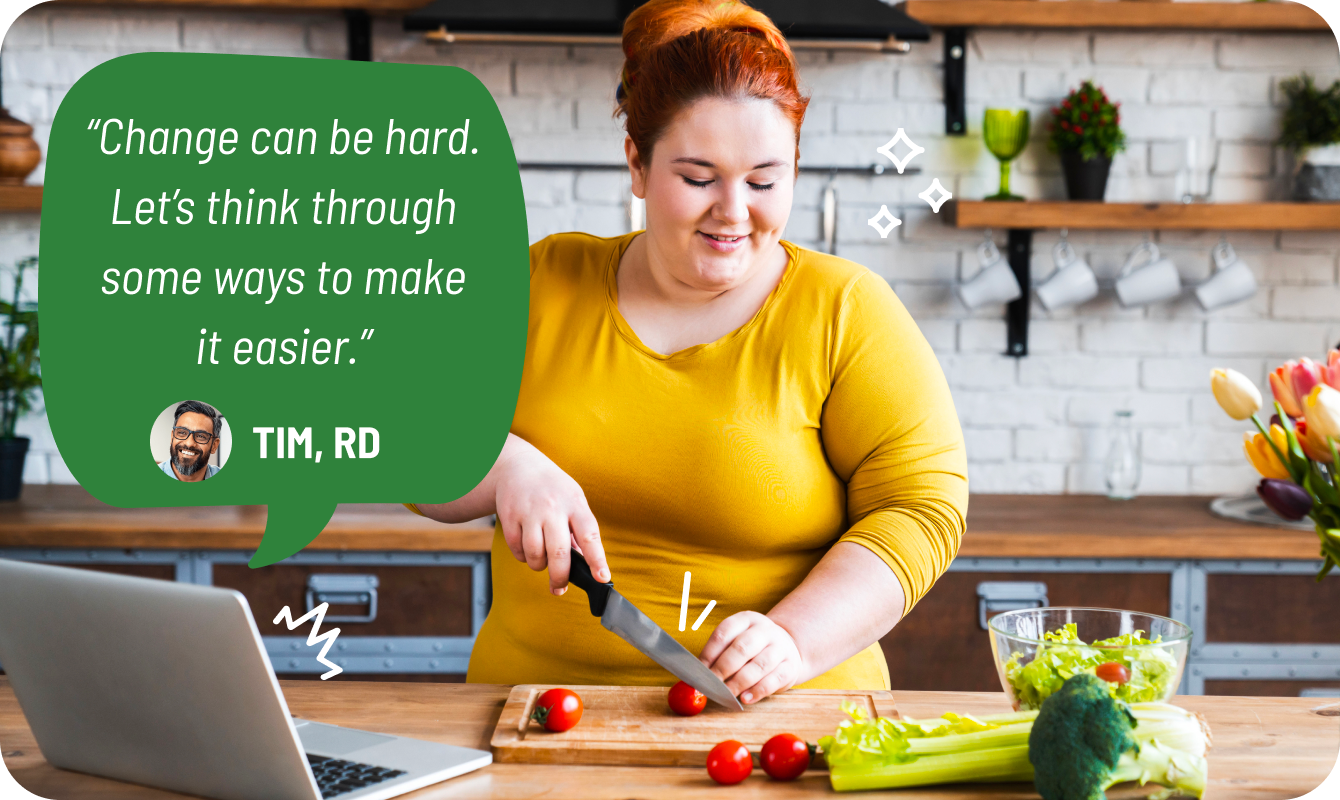 STEP 2
Customize your plan with delicious meals to meet your goals.
Work with your dietitian to plan your meals from thousands of chef-inspired recipes. Sort by your dietary preferences, budget, and ingredients you already have on hand with our Cookitnow feature.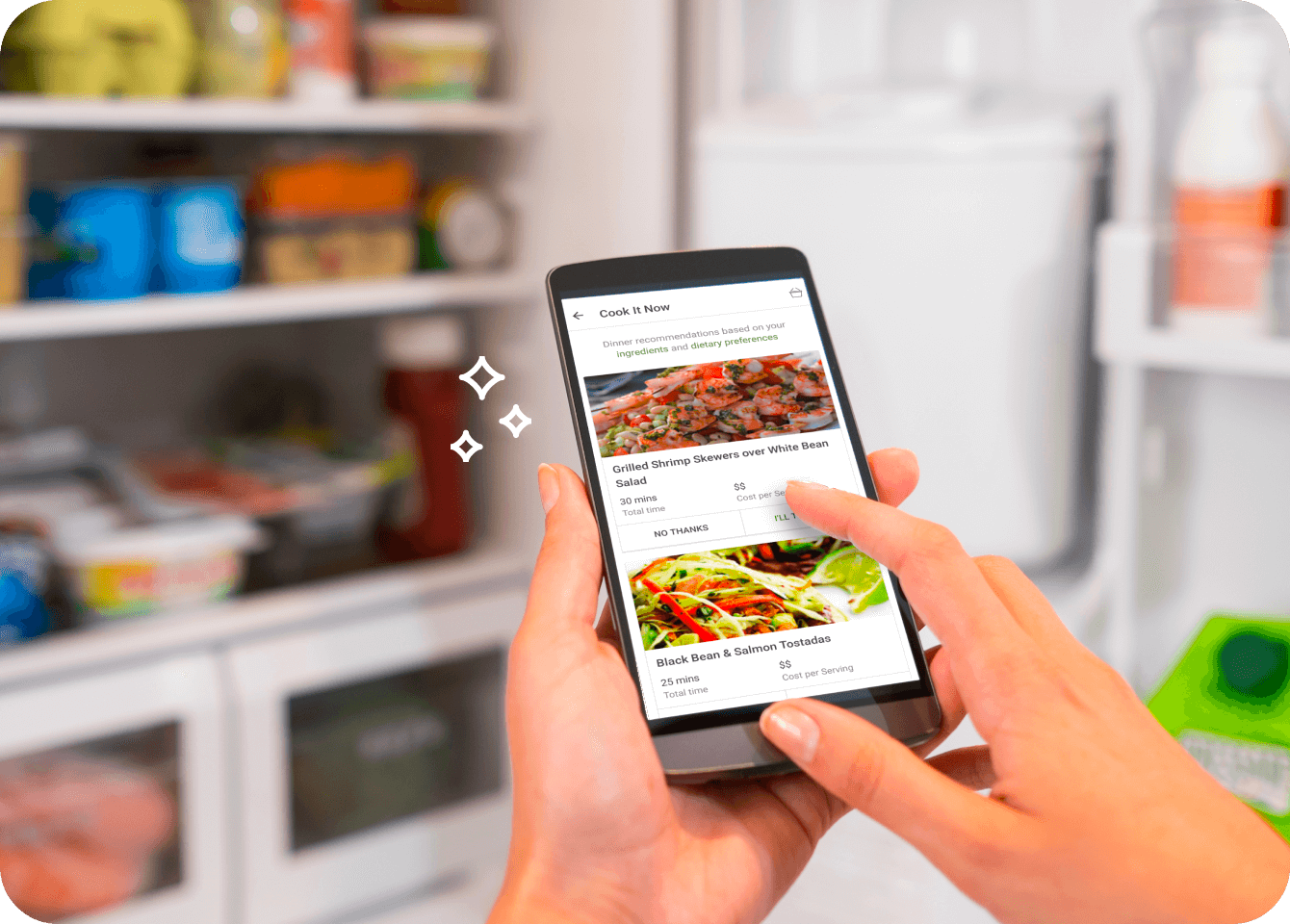 STEP 3
Save time and money getting food on the table
Shop for deals and order groceries for pickup or delivery directly in the app from Walmart, Amazon Fresh, or Instacart. Short on time? Grab food from your local restaurant with Grubhub. Look our for the "avocado" icon to indicate healthy options.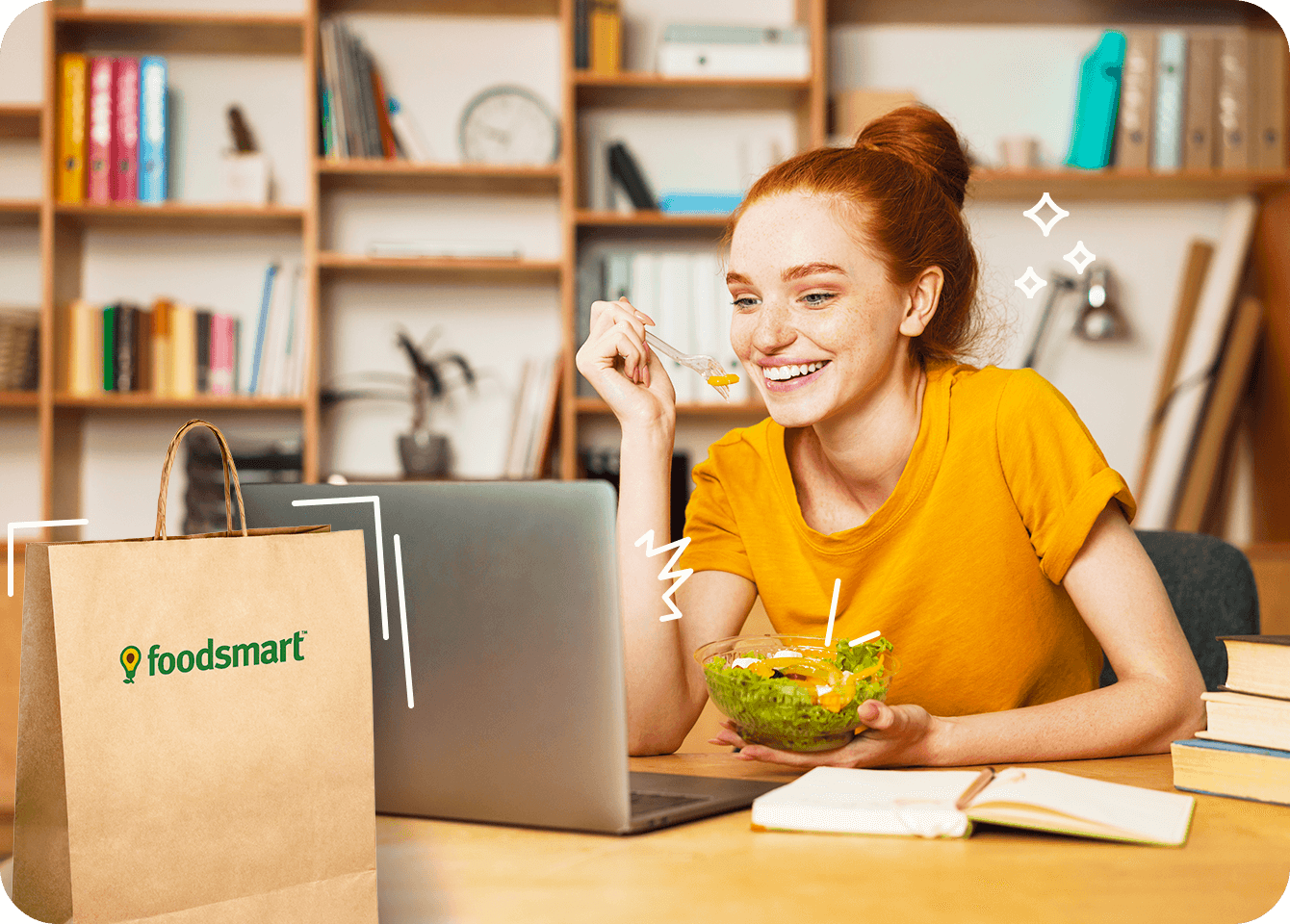 STEP 4
See results and get ongoing support.
Regular check-ins with your dietitian will help you stay on track and allow you to adjust your nutrition plan as you go, so you can be your best you.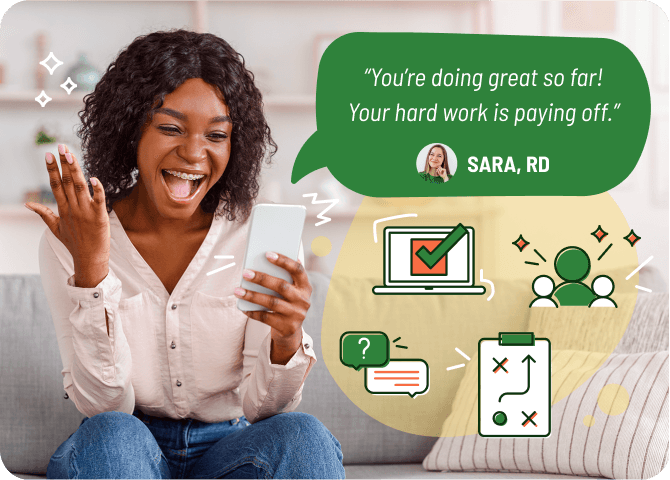 We've helped our 1.5 million members make eating well simple

My dietitian took the time to hear and understand my specific goals. She helped me immensely with my nutrition and eating schedule, something I've been struggling with for years."
Ryan C.

I was able to give my dietitian my blood test results and she was able to really hone in and give me a plan for what actually works well for my body."
Nicole K.

I've seen significant improvements in my health since I've started using the Foodsmart app."
Kady H.
How can Foodsmart help me?
Are you a Medicaid member?
Independent Health and Foodsmart are giving you access to one year of free grocery delivery with Instacart Express or Walmart+, plus unlimited dietitian visits! We know preparing healthy and delicious food for yourself and your family while sticking to your budget isn't always easy.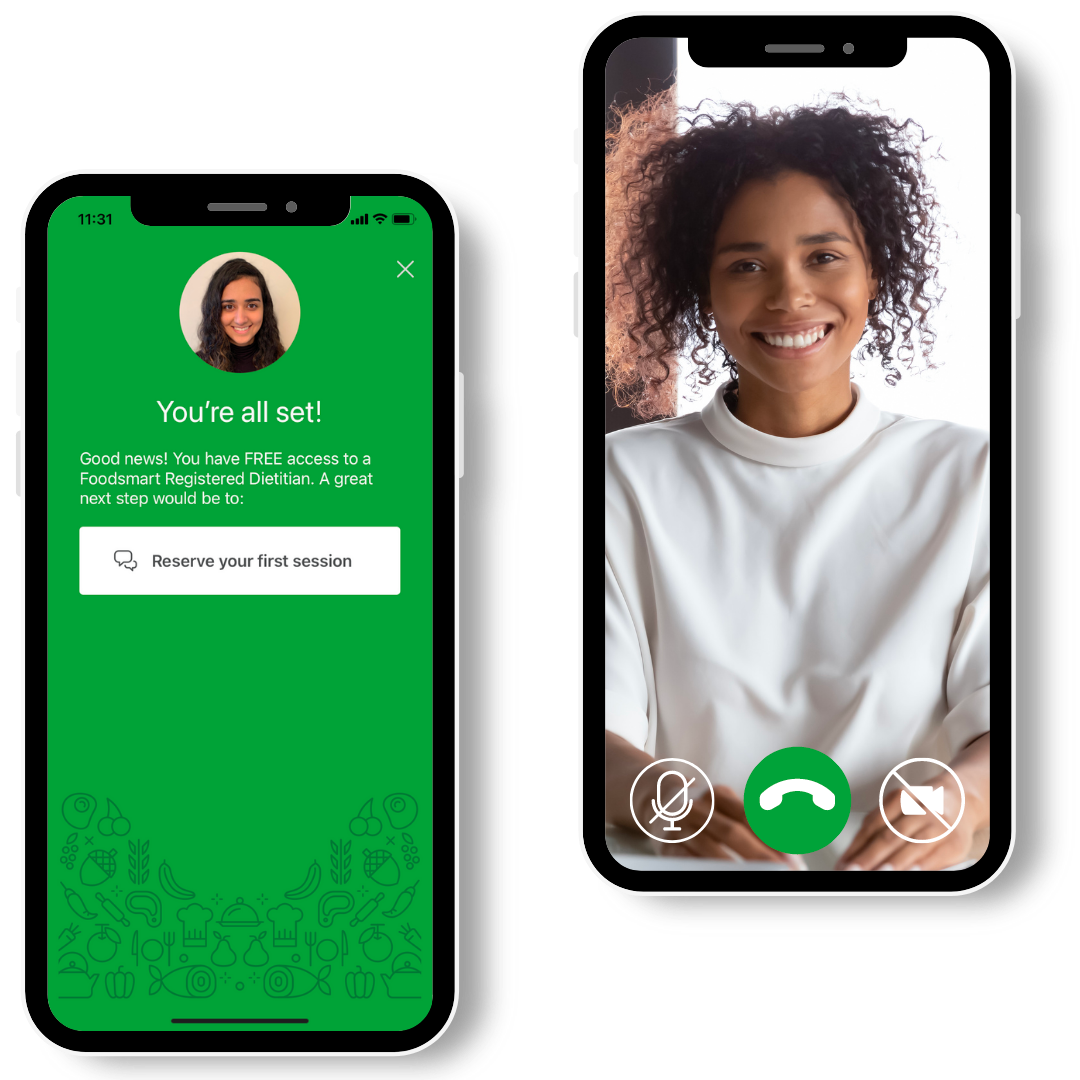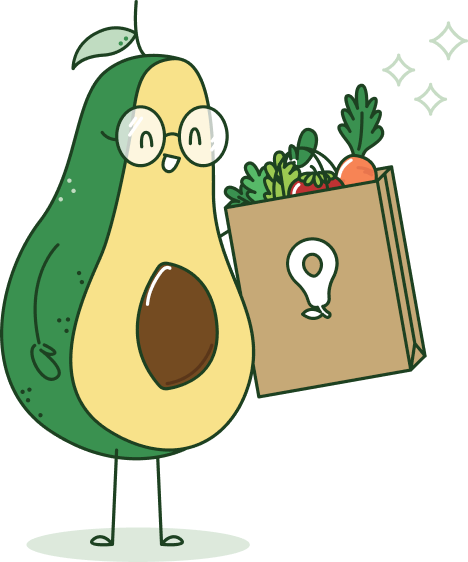 Frequently Asked Questions
Foodsmart is a personal nutrition program that helps members create a custom nutrition plan tailored to their unique health and wellness goals, and budget. We offer members a simple solution to managing their health and accomplishing their nutrition goals.

Foodsmart connects members with their own registered dietitian, a clinically-trained nutrition expert who is licensed to support common medical condition — like heart conditions, diabetes, cancer, digestive disorders like Celiac or irritable bowel disease, and obesity — with nutrition. Foodsmart's digital app helps members with meal planning, shopping on a budget, and food delivery.
What is the Food First Program
Independent Health partners with Foodsmart to bring Medicaid members the Food First program - unlimited access to nutrition counseling and free grocery delivery for 1 year from Walmart+ or Instacart Express.Food First members work one-on-one with an dietitian through unlimited, free telehealth appointments to set personalized goals, create meal plans based on their budget, and develop healthy habits.Members are provided a free year membership to Walmart+ or Instacart Express membership. This allows for unlimited free delivery on grocery orders over $35 Foodsmart checks if members are eligible for SNAP/EBT benefits and enrolled by the Foodsmart team if applicable. SNAP/EBT can be used Walmart+/ Instacart+Members receive access to the Foodsmart platform which includes meal planning and budgeting tools, thousands of chef curated recipes, and the SNAP integrated grocery ordering through Walmart+ and Instacart+.
How do I know this program will work for my needs and conditions?
Our program is driven by registered dietitians who are clinically trained in medical nutrition therapy to treat all conditions with nutrition. Unlike many "one-size-fits-all" programs, we take a personalized approach to understand who you are and what you're looking to accomplish and then develop a plan just for you. We've seen numerous clinical outcomes amongst our 1.5M members with diseases like diabetes, obesity, and high cholesterol. We're confident we can offer the support you need.We work on your schedule. Whether you are available to meet once a week or once a month, we'll be here. We develop a plan that is specific to you so whether you have a goal to reach in one month or six, we can create a plan to help you get there.
What can I expect during an nutrition coach visit?
Our nutrition coaches are licensed Registered Dietitians trained to help problem-solve and work alongside you to create attainable, realistic health and nutrition goals and an action plan to reach them. They will start your initial consultation by asking about your current health goals, eating habits, medical/family history, food preferences, cooking skills, and more, to get a full picture of who you are and how they can set you up for success. With this information, they can help you create small, achievable goals and help to keep you accountable!During your second visit you will be provided with your new Instacart Express or Walmart+ account. This will allow you to order groceries from the comfort of your own home. During follow-up consultations, you will check in on progress, dive deeper into your goals, and find solutions for any problems you may have.