Download the Food Insecurity Whitepaper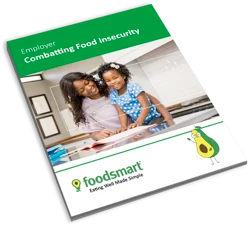 In a recent matched pair controlled claims analysis with Chorus Community Health Plan, Foodsmart demonstrated significant cost savings amongst both Medicaid and Exchange members by helping to improve their food access and affordability, overall nutrition and related health outcomes.
If you're like a lot of employers, learning who is food insecure may seem like an impossible task. And although there aren't always signs, health inequity is quite common. In fact, due to the impact of COVID-19, a projected 42 million Americans will experience food insecurity, a leading contributor to health inequity, in 2021.
Schedule Free 15-min Visit
Please do not include any privileged and confidential and/or protected health information (PHI) in your inquiry. For questions about telenutrition visits, please contact
telenutrition@foodsmart.com
or
(844) 741-1888
Download the Food Insecurity Whitepaper
By submitting this form, I give express written consent to receive marketing and informational communications using an automatic telephone dialing system and/or an artificial or prerecorded voice, text message, or e-mail from Foodsmart. I understand my consent is not a condition of participating and that I may revoke my consent at any time.