Nutrition Counseling Covered by CCHP Insurance
All Chorus Community Health Plan (CCHP) members with Individual and Family insurance have access to no-cost visits with a registered dietitian in the Milwaukee, Wisconsin area. Your dietitian can help you reach your health goals with a personalized nutrition plan and helpful tools.
Earn $25 when you complete your first visit with a Foodsmart dietitian.
Get started by scheduling an appointment.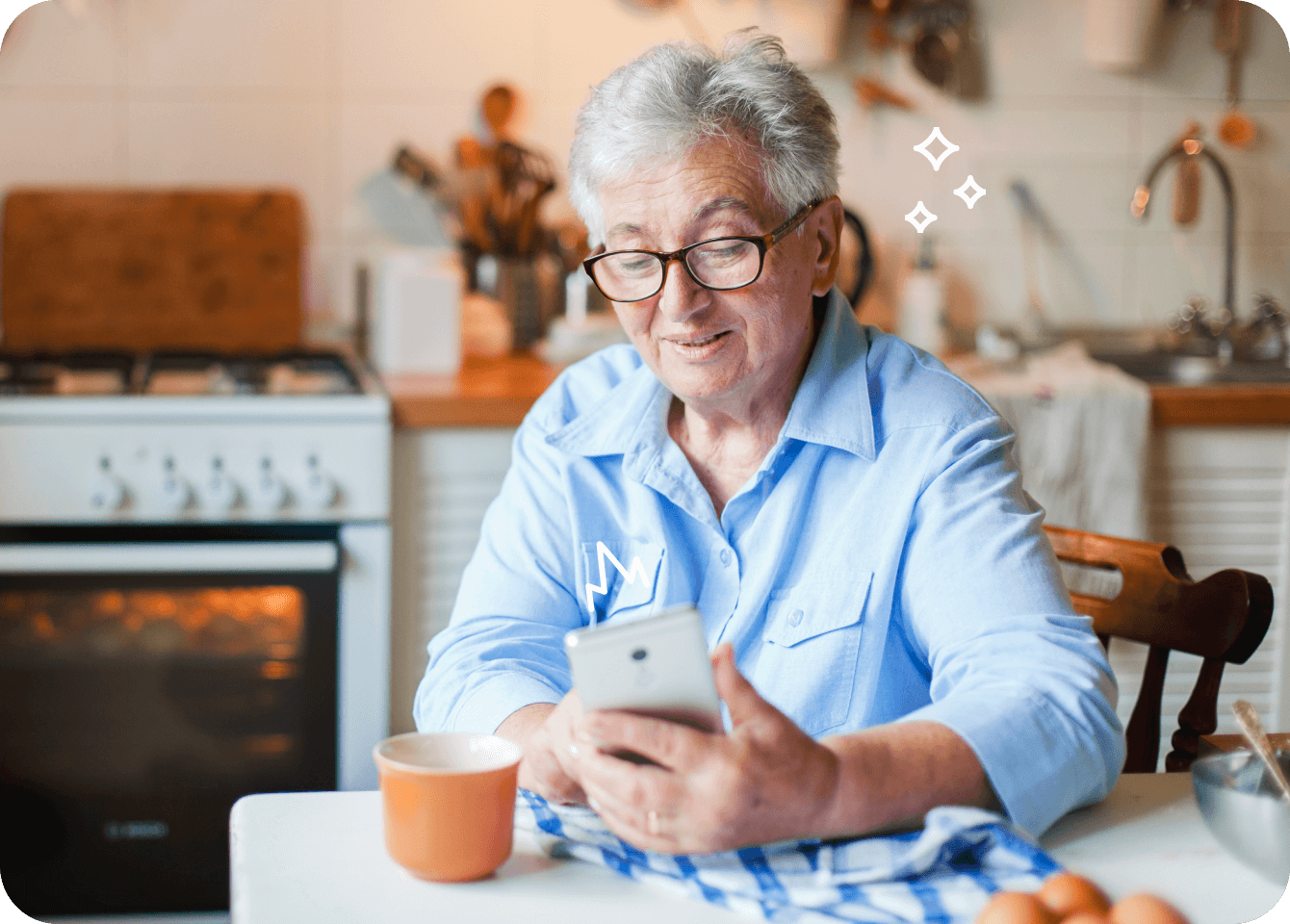 What to expect during your first dietitian visit
Meeting with a dietitian for the first time can be nerve-racking. But rest assured, our dietitians aren't here to give you lots of rules to follow or overwhelm you with too much information. They are ready to listen and get to know you, your health history and preferences, and develop a plan that feels manageable to help you reach your goals. Watch the video to hear from Maddie, one of our dietitians, as she explains what you can expect during your initial visit.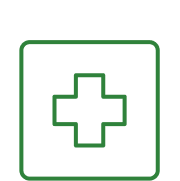 Not an Individual and Family Plan Member?
BadgerCare Plus
CCHP members with BadgerCare Plus Medicaid insurance,
click here
to find more information about your Foodsmart benefit.
How does Foodsmart work?
STEP 1
Meet your dietitian. Schedule a phone call or video visit.
Choose a 30 or 60 minute visit with a dietitian to define your goals and create a plan.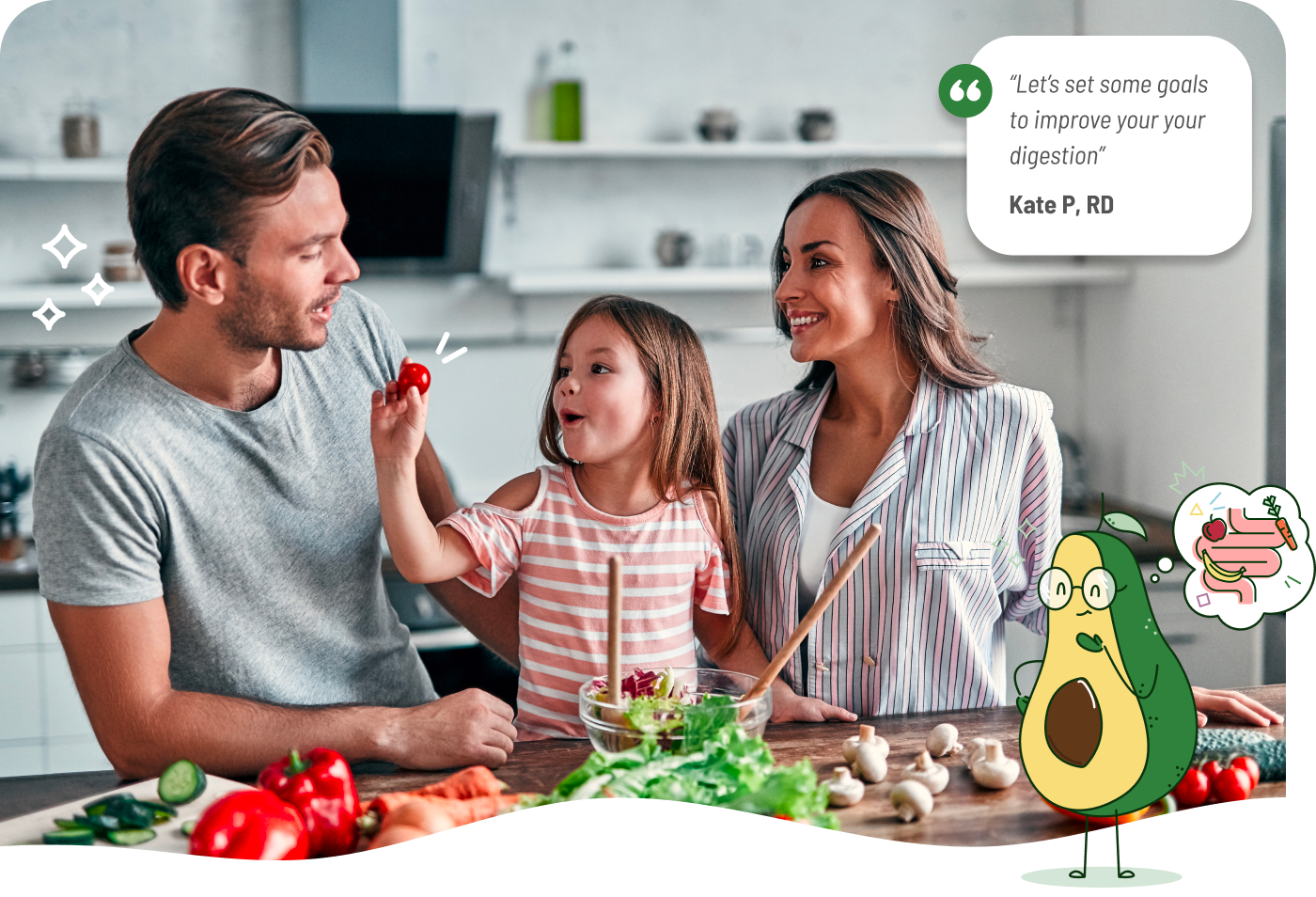 STEP 2
Create a personalized meal plan
Work with your dietitian to plan your meals from thousands of chef-inspired recipes. Sort by your dietary preferences, budget, and ingredients you already have on hand with our Cookitnow feature.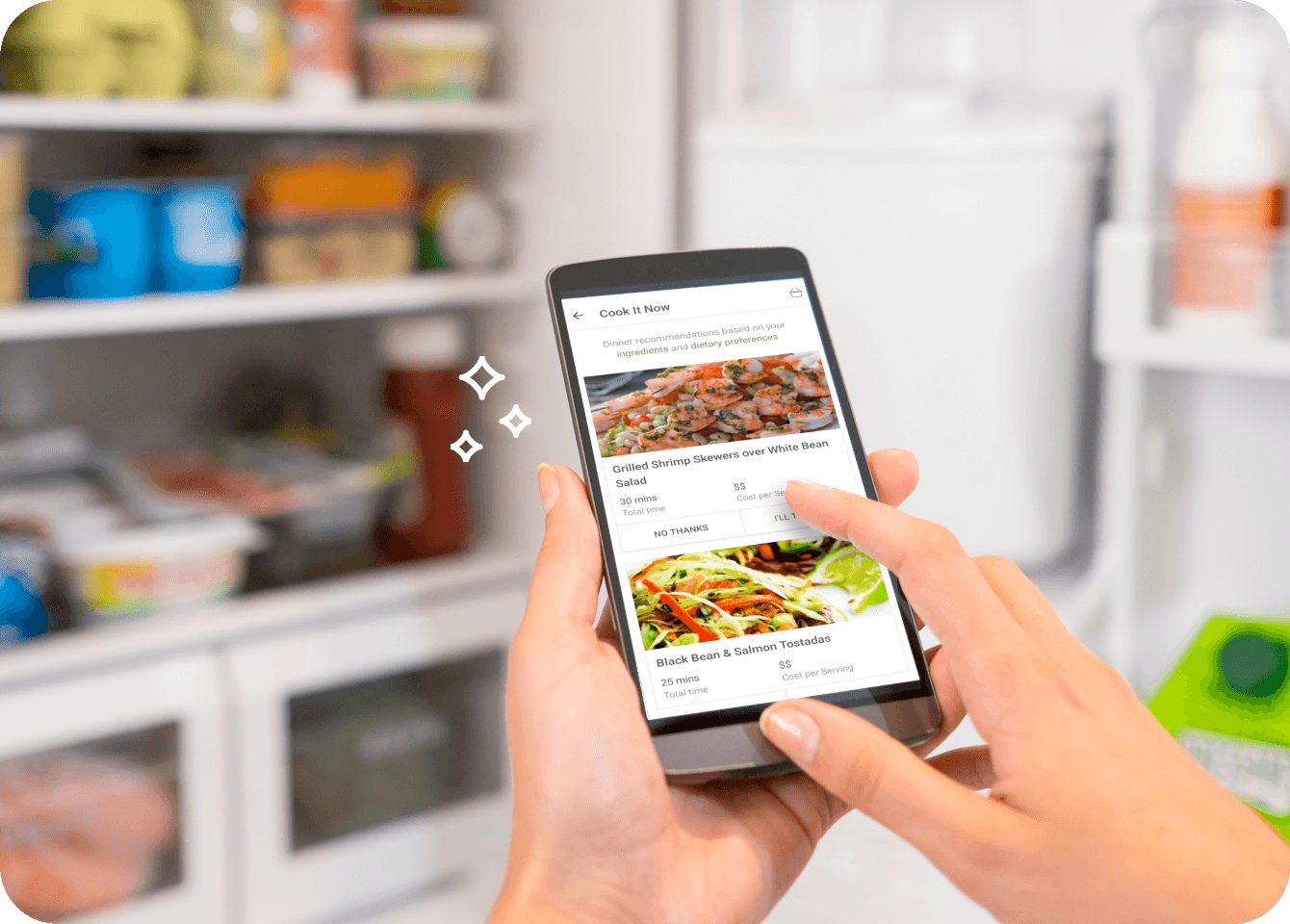 STEP 3
Order food for delivery or pickup.
Save an average of $42 per week on groceries through local grocery deals, coupons, and food delivery tools. Order groceries for pickup or delivery directly in the app from Walmart, Amazon Fresh, or Instacart. Look out for the "avocado" icon to indicate healthy options.
STEP 4
Monthly check-ins
With regular check-ins with your registered dietitian, we help you stay on track and adjust as we go so we're always working together towards your best you.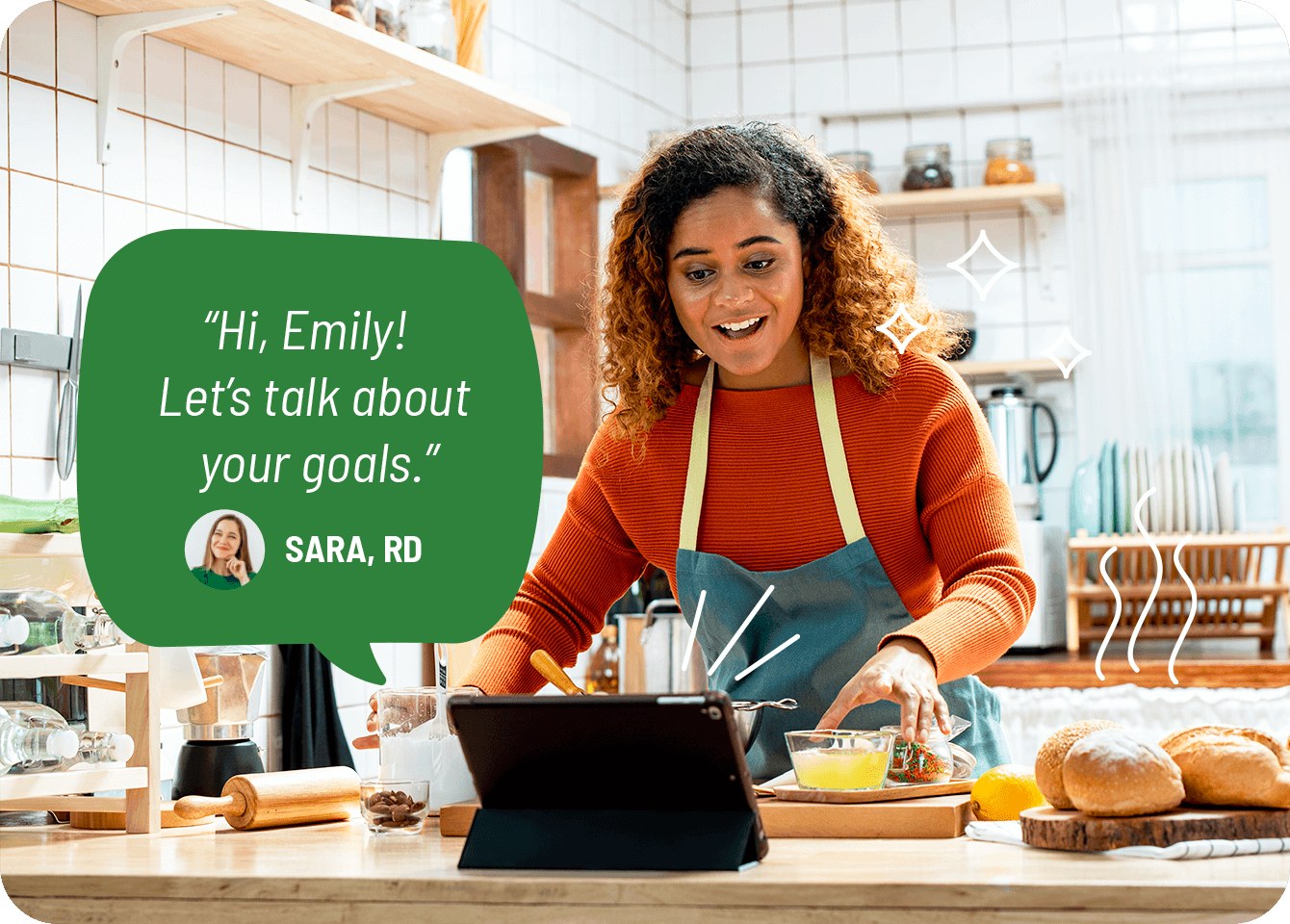 We've helped our 1.5 million members make eating well simple

My dietitian took the time to hear and understand my specific goals. She helped me immensely with my nutrition and eating schedule, something I've been struggling with for years."
Ryan C.

I was able to give my dietitian my blood test results and she was able to really hone in and give me a plan for what actually works well for my body."
Nicole K.

I've seen significant improvements in my health since I've started using the Foodsmart app."
Kady H.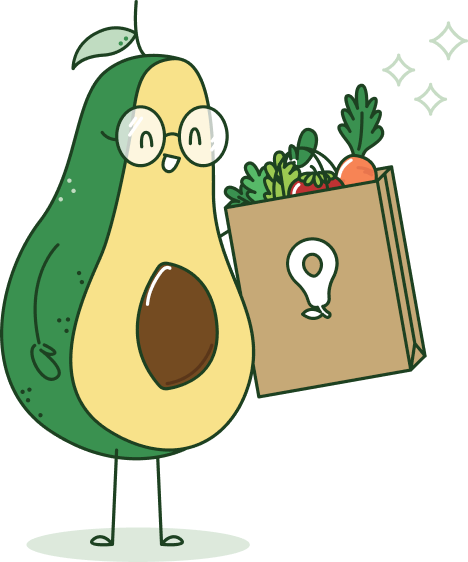 Frequently Asked Questions
Foodsmart is a personal nutrition program that helps members create a custom nutrition plan tailored to their unique health and wellness goals, and budget. We offer members a simple solution to managing their health and accomplishing their nutrition goals.

Foodsmart connects members with their own registered dietitian, a clinically-trained nutrition expert who is licensed to support common medical condition — like heart conditions, diabetes, cancer, digestive disorders like Celiac or irritable bowel disease, and obesity — with nutrition. Foodsmart's digital app helps members with meal planning, shopping on a budget, and food delivery.
What can a dietitian help me with?
Foodsmart's registered dietitians can guide members through any health or wellness concern—from maternity nutrition to nutrition for athletes. Foodsmart provides best-in-class situational nutritional support by helping members stay on track to meet their goals and sharing their expertise along the way.

Because Foodsmart only employs registered dietitians licensed to treat complex conditions, the program is ideal for anyone with specific conditions like diabetes, hypertension, and high cholesterol. Foodsmart's customized meal planning and recipes help busy employees save time each week and alleviate stress.
Is my dietitian visit covered by insurance?
Foodsmart works with health plans nationwide in order to have dietitian and nutritionist services covered by insurance. Once you schedule your appointment, a member of our team will be in touch to confirm whether your first appointment and subsequent appointments are covered.While visits with a dietitian are often partially, or even fully, covered by your health insurance, you can become a self-pay subscriber for $69 a month. Subscription members are entitled to one 60-minute dietitian visit each month the subscription is active.
What can I expect during a dietitian visit?
Your dietitian will start your first visit by asking about your current health goals, eating habits, medical/family history, food preferences, cooking skills, and more, to get a full picture of who you are and how they can set you up for success. From there, you'll create small, achievable goals and work with your nutrition coach to stay on-track!

During follow-up consultations, you will check in on progress, dive deeper into your personalized goals, and get help with any challenges you encounter along the way.